Wal-Mart Stores Inc.'s move to raise wages of more than 1.2 million employees next month could be another sign that pay is finally going to pick up.
As the job market just posted its best two years since 1998-99 and the U.S. economy is inching closer to full employment, economists are projecting more employers will start to feel pressure to boost paychecks.
Wal-Mart, the largest private employer in the U.S., is raising wages for its hourly employees either to at least $10 an hour or by 2 percent of their salaries, starting Feb. 20. Under the plan, senior hourly workers will get $15 an hour, up from $13, and assistant managers will also see a boost, the company announced Jan. 20.
The retailer's initiative could put further pressure on companies across industries to boost salaries to retain or attract workers, said Ryan Sweet, a senior economist at Moody's Analytics Inc. in West Chester, Pennsylvania.
After Wal-Mart raised its wages to $9 an hour in April, big discount chains such as Ross Stores Inc., T.J. Maxx and Target Corp., Wal-Mart's biggest direct competitor, followed suit and also increased their minimum pay to $9 an hour last year. The U.S. federal minimum wage is currently $7.25.
"Wal-Mart is responding to the tightness in the overall job market," Sweet said. "This is further evidence that wages in the U.S. more broadly are going to pick up."
Here are some improving labor-market indicators that could be signs that higher pay is on the way:
Unemployment Rate
Employers in December added 291,000 workers, the biggest gain this year, following a 252,000 increase in November that gave Federal Reserve officials confidence that the U.S. economy was strong enough for them to raise interest rates for the first time in almost a decade.
The jobless rate held at a seven-year low of 5 percent as more people entering the workforce found employment. It's hovering around the 4.8 percent to 5 percent range that policy makers say is consistent with stable inflation pressures. A lower rate would probably trigger bigger wage gains that could push up prices.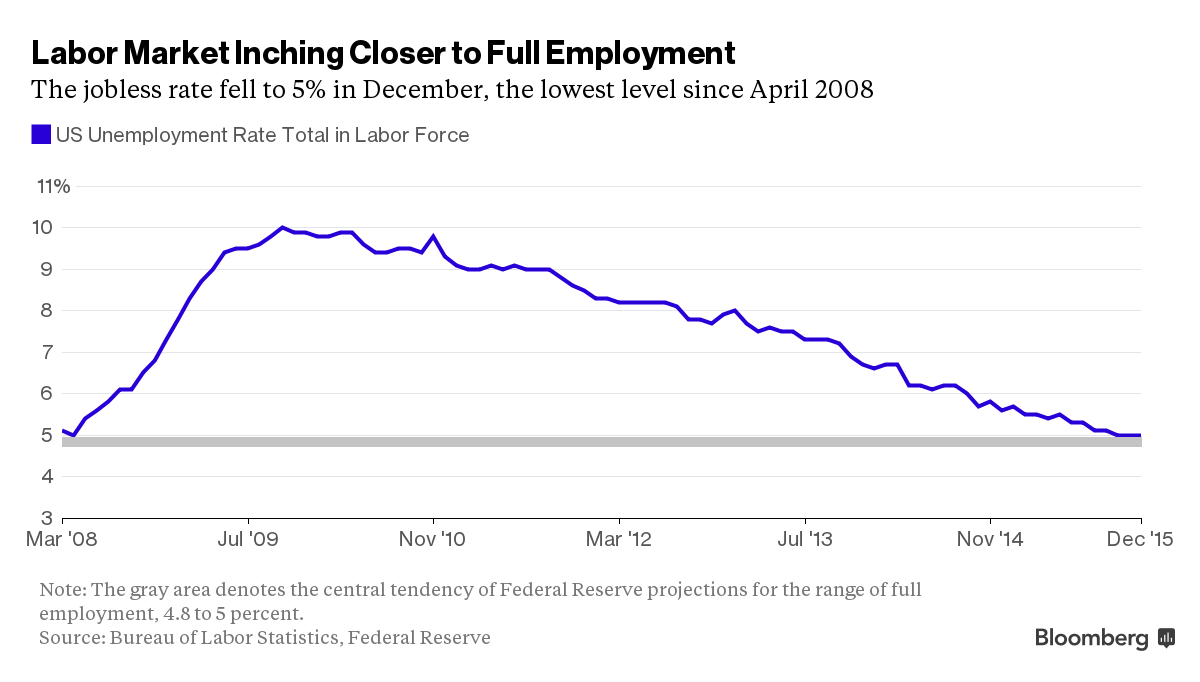 "We are close to full employment," Sweet said. "Slack is diminishing in the labor market — it hasn't vanished, but we are reducing the slack — and that's going to translate into stronger wage growth this year and 2017."
Higher Pay Plans
Wal-Mart's wage raise is not only followed by the big retailers.
A net 20 percent of small-business managers last month said they plan to raise pay, matching the highest level since 2006, according to a survey by the National Federation of Independent Business, a lobbying group that claims membership of 325,000 small and independent business owners.
The proportion of owners who said they had recently raised pay stayed at 23 percent, unchanged from November, the survey showed.
"We are seeing, given the broadness of it, that it's pretty indicative of a labor market that is getting better," Sarah House, an economist at Wells Fargo Securities in Charlotte, North Carolina, said in an interview.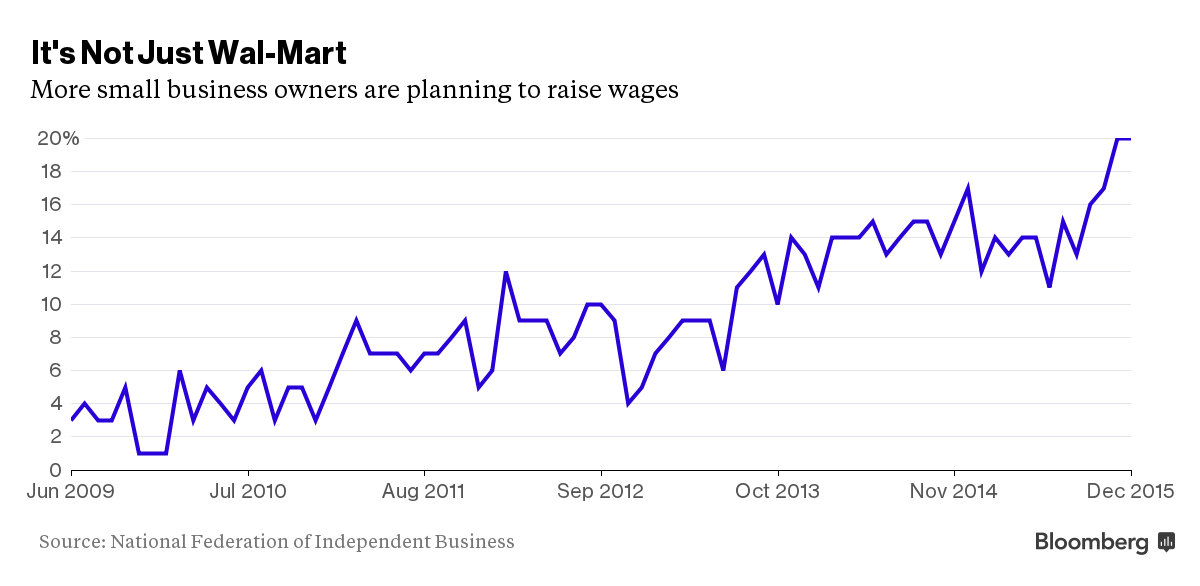 Worker Hours
While higher pay is good news, not everyone is convinced that Wal-Mart's wage raise will help workers that much. Labor activists have raised concerns that the retailer may cut hours or other benefits to compensate for higher salaries. Wal-Mart already announced plans to close 269 stores, the most in two decades, which would affect about 10,000 U.S. jobs.
Labor Department data show that the number of average weekly hours in the private sector has held steady over the past two years.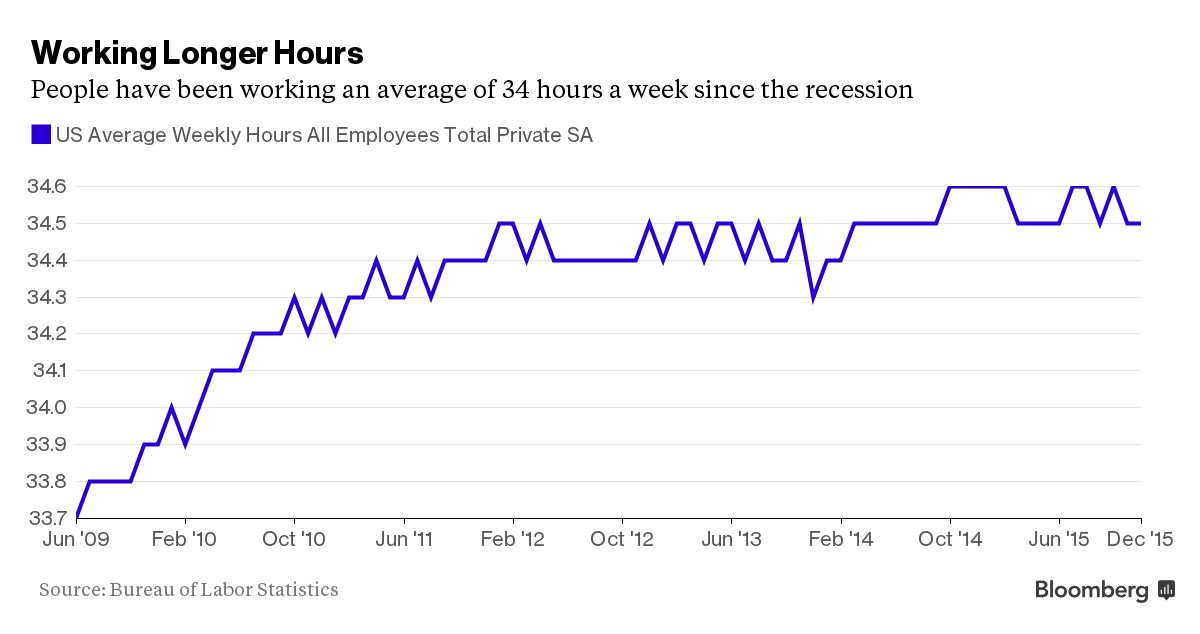 Economists' Forecasts
While employers continue to aggressively add headcounts, wage growth has been stuck around 2 percent since the economic expansion started in July 2009.
Wells Fargo's House forecasts wages will rise about 2.4 percent this year, while Moody's Sweet is seeing 3 percent to 3.5 percent growth. Jennifer Lee, a senior economist at BMO Capital Markets on Toronto, predicts a 3.3 percent gain in after-tax income adjusted for inflation.
Source: Bloomberg