For those trying to get the latest information about the novel coronavirus, the waves of sometimes conflicting data pounding the shore in a single news cycle can be overwhelming and confusing. But a couple of truths have become clear, and they bear repeating here.
One: COVID-19 is going to ravage the poorest Americans.
Two: Like many facets of life for the most vulnerable, it'll take some time before we see the full extent of the damage.
In some parts of the country, the effect of the pandemic on vulnerable populations, especially the working poor, is being effectively charted. Generally, though, that's because those people live in urban areas whose plights have made them a national focus.
A report breaking down the massive sweep of the epidemic through New York City, for example, found that distressed neighborhoods like Elmhurst, Jackson Heights and Corona—densely packed areas of Queens, with lower-income families and large percentages of non-English speaking residents—were among the hardest hit by the disease.
Likewise, rates of infection are soaring in Detroit and New Orleans, where poor residents (many with underlying medical conditions) have little or no access to health care. With 36 percent of its residents living in poverty, Detroit and surrounding Wayne County accounted for half the cases reported in Michigan through March 27, as that state's totals skyrocketed in a two-week period.
Infections inevitably will spike in most of the poorest parts of the U.S., where workers are more likely to get sick in the first place, have less access to doctors, have inferior health insurance or none at all, and work in the types of service-sector jobs—food and agriculture, transportation, hotel, sanitation, shipping and delivery—that have been exempted from most shelter-in-place orders.
But there is a second layer of concern, and it lies in the part of the story that has not so far been told. In many areas of the country, the lowest-income populations are also the least likely to receive testing. Reports of low infection rates in those areas, then, should be treated with a healthy dose of skepticism—and concern.
When officials in Dallas began examining their COVID-19 numbers, they discovered that the lowest reported rates of infection were in the area's poorest ZIP codes, many of them in the south part of the city. Health officials quickly surmised that the neighborhoods simply weren't being adequately examined.
"I'm requesting more testing," Dallas County Judge Clay Jenkins said last week, according to D Magazine. "You are seeing more testing in the north because there are a lot more hospitals and access to medical care – a lot more people who have insurance and a regular doctor and are going there for testing."
An analysis by the Associated Press, meanwhile, found that nearly one-third of U.S. counties have yet to report a single positive test. Eight-five percent of those counties are rural, and overall the counties have a higher proportion of people over age 60 than the national average. Though rural areas may provide more distance between residents and thus perhaps lessen the risk of transmitting COVID-19, they may also prove to have sporadic (or no) available testing and require extensive travel to reach a health care facility.
"They'll be later to get the infection; they'll be later to have their epidemics," said Christine Johnson, professor of epidemiology at the University of California, Davis. "But I don't think they're going to be protected, because there's nowhere in the U.S. that's isolated."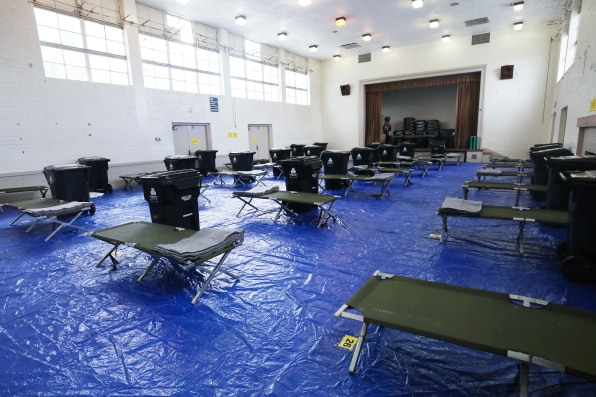 NOT MUCH PROGRESS IN ADDRESSING THE HOMELESS CRISIS
Last week's column examined the concern that California's exploding homeless population – 150,000 and growing, by most estimates – will become a hot spot for the spread of COVID-19. Unprotected and in many cases unsheltered, the homeless are prime candidates to contract and carry the disease.
Progress continues to be halting. Los Angeles Mayor Eric Garcetti said the state, city and county together had secured more than 900 area hotel rooms to be used for isolation and quarantine of the homeless, but he noted that more will be needed. L.A. also is relying heavily on opening new emergency shelters, which could create 6,000 beds in some of the city's recreation centers. L.A. County's homeless population is put at roughly 60,000.
In San Francisco, meanwhile, the situation appeared wholly chaotic. District Supervisor Matt Haney tweeted Sunday that, "as far as I understand, so far S.F. has moved zero unhoused people into hotel rooms," despite the apparent availability of 30,000 unused roomsthroughout the city. San Francisco's shelters also have stopped accepting new people. At this point, the city's estimated 8,000 homeless have few viable options.
BRACING FOR A NEW WAVE OF WORKING POOR
With unemployment claims expected to ratchet upward radically from figures that a week ago already were at record highs, officials in cities and counties across the country must brace for a new wave of working poor in their communities.
Nearly 3.3 million Americans filed for unemployment benefits last week, shattering a grim record for a single reporting period that dated to 1982. This week's report is expected by forecasters to land somewhere between 4 million and 6.5 million filings.
California Gov. Gavin Newsom said last week that the state's Employment Development Department (EDD) had, in a 12-day span, received 1 million applications for unemployment benefits, a number that is almost certain to rise dramatically as prolonged business shutdowns result in vastly more furloughed and laid-off workers.
California processed more than 186,000 claims for unemployment benefits last week. One week earlier that number was about 57,600. The EDD has asked former staff members and state workers with claims processing experience to return to work to help handle the increased volume. It also redirected staff from across the department to the task, and so far has been able to handle the increase in claims without a backlog.
About a week after a grocery cashier told me she and her co-workers were bringing their own gloves to work to protect themselves, a union deal with a major Northern California employer has added some safeguards for those employees.
The temporary agreement between Safeway and the United Food and Commercial Workers Local 5 provides for a $2 per hour "appreciation wage" on top of the usual pay. (Disclosure: The UFCW is a financial supporter of Capital & Main.) Safeway also will grant up to two weeks' additional pay before requiring employees to use paid leave if they contract the virus or have to self-quarantine in compliance with CDC policies.
The deal, struck on March 23, is to be revisited within 30 days of the agreement. It requires Safeway to implement safety practices such as allowing its employees to step away to wash their hands at least once an hour, enforce the 6-foot social distancing guidelines inside stores, and make hand sanitizer available to all employees.
About 14,000 UFCW Local 5 workers are employed by Safeway in Northern California.
Source: Fast Company