Safeway customers in southern California will face limits on how many meat products they can purchase, with the company announcing measures to tackle panic buying amid a possible meat shortage.
Meat industry leaders have sounded the alarm over the impact of the coronavirus on meat supply.
Tyson Foods warned that millions of pounds of meat could be lost following an end to operations at a number of processing plants after workers contracted the coronavirus. Plants operated by JBS, Cargill, National Beef Packing and Smithfield Foods have also been closed over the last few weeks.
On Wednesday, Safeway announced restrictions on meat sales in its southern California stores, which include Vons, Pavilions, and Albertsons stores but insisted there is no lack of meat and it is only acting to prevent products from selling out too quickly.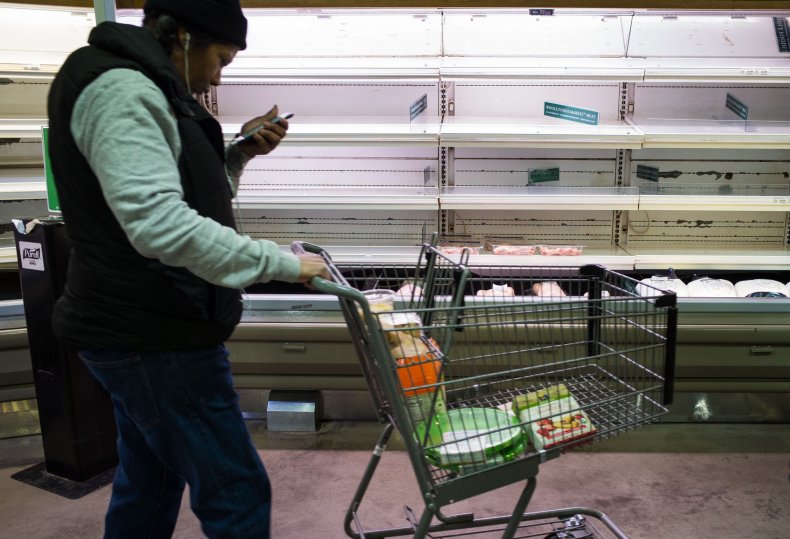 In a statement to Newsweek, Safeway said the limits only applied to its stores in southern California.
"Albertsons, Vons and Pavilions in the Southern California market implemented a temporary limit on beef, chicken, and pork. The limit is two packages of each commodity per household.
"The stores are not experiencing issues with supply or product availability. They did so to prevent panic buying and to ensure more of our customers can find the products they need."
"Our team in southern California made the decision to post the signs…in an attempt to thwart stock up buying we have seen in other categories."
Meat industry leaders and experts continue to warn of meat shortages and higher prices.
Dennis Smith, a livestock trading expert and a senior account executive at Archer Financial Services, warned that pork shortages could last until June. There were also problems with beef supply due to the impact of coronavirus in other parts of the world, such as Brazil and Canada.
"Beef is going to get critically short," he said, "We are seeing beef production drop in the U.S. and the whole global beef situation is changing rapidly.
"I would expect the beef meat case to be as empty as the pork one. I would say the beef plants and pork plants will be on the same timetable," he told Newsweek.
Victor Colello, meat supervisor for the Morton Williams chain of supermarkets in New York City, told the New York Post that there was a spike in cold cuts of meat and beef and that prices had gone up as much as $3 a pound.
Meanwhile, David Ortega, associate professor and food economist at Michigan State University, told Newsweek the plant closures are affecting producers that do not have places to send their animals for processing.
"These plant closures reduce livestock prices on the producer end and increase meat wholesale prices as there is less processed meat available.
"The effect on consumers and what they will see at their grocery store is a little more complicated given other disruptions that COVID19 is having on supply chains, the economy and where people are getting their food," he said.
To keep meat processing plants going, President Donald Trump has signed an executive order declaring them critical infrastructure under the Defense Production Act.
However, unions and analysts fear the executive order could eliminate the liability on the plants to provide working conditions that would protect employees from the coronavirus.
The United Food and Commercial Workers International Union (UFCW) called on federal leaders to give meat workers first-responder status, which would make them eligible for priority access to COVID-19 testing and protective equipment.
"Our federal leaders must enforce clear guidelines to ensure every employer lives up to the high safety standards these workers deserve and the American people expect," it said in a statement.
As reported previously, a White House official told Newsweek that Department of Labor and Labor Secretary Eugene Scalia would push for better safety standards at meat processing plants and may provide guidance for meatpacking workers most at risk of developing severe complications from COVID-19.
"For example, for a processing plant worker that is over 65, or one that has pre-existing health conditions that put them at a greater risk, we would work with the Department of Labor to issue guidance strongly suggesting they stay at home," the official said.
Source: Newsweek