The New York attorney general Letitia James is considering legal action against Amazon after it fired one of its warehouse workers in Staten Island who had organized a protest calling for greater protections for staff amid the novel coronavirus outbreak.
Chris Smalls and other workers at the warehouse, which is known as JFK8, walked out on Monday as part of a call to the online giant to close the facility after a worker tested positive for COVID-19 last week. He said that there were many more workers who tested positive there than the company has publicly admitted, CNN reported.
Amazon says Smalls lost his job for refusing to adhere to social distancing guidelines and for not self-isolating despite his contact with the worker who had tested positive.
But James tweeted: "In this midst of a pandemic, Chris Smalls & his colleagues bravely protested the lack of precautions that @amazon employed to protect them from #COVID19. Then he was fired."
"I'm considering all legal options & calling on the NLRB to investigate," she said, referring to the National Labor Relations Board, which lobbies for the rights of private sector employees.
"Amazon, this is disgraceful," she added.
In a statement issued on her website, James said that in New York, the right to organize is "codified into law," and any retaliatory action by management "is strictly prohibited."
"At a time when so many New Yorkers are struggling and are deeply concerned about their safety, this action was also immoral and inhumane."
In a statement after his dismissal, Smalls accused Amazon of failing to keep its workers, and their families and communities safe. "I am outraged and disappointed, but I'm not shocked," he added.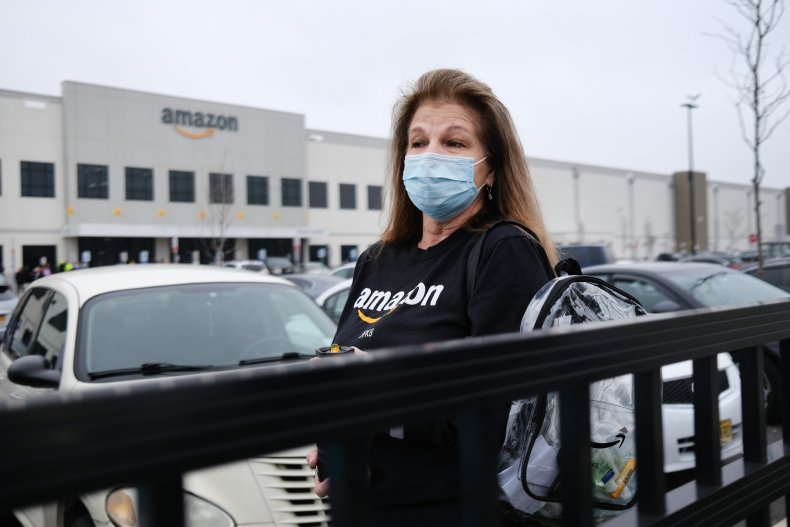 The online giant told Newsweek in a statement that Smalls was fired for ignoring "multiple warnings" about social distancing after his contact with a colleague who had tested positive.
"He was also found to have had close contact with a diagnosed associate with a confirmed case of COVID-19 and was asked to remain home with pay for 14 days, which is a measure we're taking at sites around the world."
"Despite that instruction to stay home with pay, he came onsite today, March 30, further putting the teams at risk. This is unacceptable and we have terminated his employment as a result of these multiple safety issues."
With cities on lockdown and physical stores running low on stock, Amazon warehouses are making up the shortfall for many people by delivering goods.
However, a number of workers at different facilities told CNBC they were concerned the safety measures at the facilities were not enough, complaining there were not enough supplies such as hand sanitizer and disinfectant.
They also say they have to choose between working and risking their health or staying at home and missing out on their pay, which Amazon denies.
Meanwhile in a statement issued to Newsweek on Monday, the president of the United Food and Commercial Workers union (UFCW), Marc Perrone, accused Amazon, and other retail giants, of "ignoring the concerns of workers" and that "for the sake of public health and worker safety, every non-union grocery worker must speak out."
In response to the claims by UFCW, Amazon told Newsweek in a statement it had been working closely with health authorities "to proactively respond, ensuring we continue to serve customers while taking care of our associates and teams.
"We have also implemented proactive measures at our facilities to protect employees including increased cleaning at all facilities, maintaining social distance in the fulfillment centre, and adding distance between drivers and customers when making deliveries," the statement added.
Source: Newsweek