Crossing the threshold of The Dragon's Nest toy shop is like travelling back in time. Modelled on Charles Dickens's Old Curiosity Shop, the store's wooden shelves groan under the weight of toys and games that have kept children entertained for generations: models of Mr Potato Head sit alongside Slinky springs, Spirograph drawing sets next to glider aeroplane kits. A hand-painted sign under the low-beamed ceiling transports children to a place far, far away: "There once was a land of magic, and wonder — and dragons."
For almost four decades, the shop has occupied this early-19th-century red-brick building in the centre of Newburyport, a chocolate-box town that seems as though it has been plucked from an English shire and plonked on the north coast of Massachusetts.
The store is especially popular with holidaymakers staying in cottages on nearby Plum Island, an 11-mile barrier reef sandwiched between the Atlantic and thousands of acres of salt marsh.
Today The Dragon's Nest is owned by Sally Owen, a 66-year-old with an infectious enthusiasm for the playthings of yesteryear. "It's like an exploratorium," she says. "We cram in a lot of toys. It's funky and different, not like a mall store, and a lot of the magic comes from the physical building itself.
"We've tried to continue with the vision of the original owners and just keep as many of the classic toys in stock, and to balance that with the trendy, popular-culture stuff."
On an overcast Saturday morning in early August, a line of children and parents are waiting patiently outside the shop, in compliance with coronavirus restrictions that limit occupancy to six customers at a time. Inside, a pair of siblings, hoping that the sun will come out, hunt for a game to play on the beach — a Frisbee or a plastic baseball set. A boy holding a fistful of marbles is intrigued by a build-your-own radio kit to while away a rainy afternoon.
These children will be among the last customers to frequent The Dragon's Nest. Later this month, it will close its doors for ever after 38 years in business, becoming one of tens of thousands of small businesses in the US to have fallen victim to the economic shock of the coronavirus pandemic. A final sale is under way: everything must go.
The toy shop's takings collapsed when the state was locked down in March to prevent the spread of coronavirus, and things have barely improved since it reopened in early June. "Covid for us has been really hard because we are very much a hands-on store," says Owen. "Things are touched all the time, especially by small children, and sometimes things are put in mouths. A lot of people are very nervous."
She fears that a resurgence of the virus in the autumn and winter would have forced her to shut down again in the run-up to the all-important Christmas shopping period. "Covid really did it for us. I know there is a light at the end of this tunnel, however long it is, but it would have been really hard for us to survive."
The Dragon's Nest typifies what Americans call "mom-and-pop" stores: small, family-owned businesses with just a handful of employees that have been a cornerstone of American towns and cities for generations. This slice of the economy — which consists of 4.7 million establishments with 12.6 million employees — has been under pressure for decades, first from the rise of "big-box" stores such as Walmart, and, more recently, from the almighty Amazon.
Now economists fear that the economic shock of coronavirus will prove ruinous for tens of thousands of mom-and-pops, with dire consequences for not only the businesses affected but also the independent, entrepreneurial streak that is hard-wired into the nation's psyche.
Owen was originally hired as a sales associate by the previous owners, who opened the store in 1982, and then bought the business from them in 2015 for $20,000. Her husband Hugo, who also has a "real, proper job" as a banker, does the taxes and accounts, and is a part-time handyman, while she runs the store during the day and spends her evenings poring over catalogues to find new toys and games with which to stock the shelves. "It's been a lot of work, but if I had to describe it, I'd say it's been joyous. The kids are just adorable. It's going to be something we really miss."
Coronavirus dealt The Dragon's Nest a final blow, but running the store has been an uphill struggle for Owen recently. Marshalls, a chain of cut-price department stores that has an outlet nearby, sells some of the same toys at the price she pays her wholesalers. Amazon — which is "killing everybody", according to Owen — is even cheaper.
Lego, a must-have product line for any toy shop, cut her off abruptly in 2017 because she could not order $15,000 worth of its items a year, forcing her to turn to a more expensive third-party distributor. Lego confirmed it had a "minimum annual order requirement of $15,000" for retailers to qualify as a direct purchaser but said "small, independent toy dealers continue to be hugely important".
Owen's costs also rose when the Trump administration threatened to impose tariffs on toys imported from China, which prompted most manufacturers to raise their prices pre-emptively. "We have been losing a fairly big percentage of sales every year," she says.
Plenty of other mom-and-pop stores are likely to suffer a similar fate. According to recent data from Yelp, the reviews site, more than 70,000 businesses have closed permanently since March.
A survey from Goldman Sachs found that 84 per cent of businesses that received loans under the government's $660bn Paycheck Protection Program — one of the main vehicles for funnelling coronavirus stimulus cash to companies — said they were on track to exhaust the funding by the first week of this month. Negotiations in Washington over a new relief package are in deadlock.
There will be no respite for Good's of Evanston, a custom framing shop in a suburb of Chicago that is closing permanently next month after more than a century in business. It has been run by Shaun Chinsky's family since 1951, when his grandfather bought the store from the Good family, who founded the company in 1903.
Chinsky, now 51, left his job as a marketing executive at a barbecue company 16 years ago to take over Good's when his father died suddenly. "It has been a great experience, but there's a point at which you've got to recognise that it's not going to work any more, and that is kinda where we are," he says.
The economic shock of the pandemic hastened Chinsky's decision to close the store, which employs seven people, but he says he would probably have made the same decision even if coronavirus hadn't happened. He reels off a long list of things that have made it harder to survive, chief among them the favourable treatment that larger rivals receive from local officials.
He cites the opening of an Amazon warehouse in neighbouring Skokie last year, which has enabled the ecommerce giant to slash delivery times for shoppers living in the Chicago suburbs. Amazon offers many products that Good's also sells, such as photo frames and albums. Sales of luxury pens have, he says, "been decimated, and it's down, in large part, to Amazon".
Chinsky points out that the property developer of the warehouse received a tax break from local officials in Cook County, which has resulted in big savings for Amazon. Without the incentive, the property would have been taxed at 25 per cent of its value per annum, whereas for the next 10 years Amazon will pay just 10 per cent.
"They're getting a 60 per cent discount on their property taxes in the next decade, whereas mine have gone up," he says. "When you have that kind of subsidy going to a company that is running everybody else out of business, it's hard to figure out a way around it.
"I don't see Amazon as the great evil," he adds. "I think that serving customers' needs best is what we all have to try to do. But when they have subsidies . . . it's not a level playing field."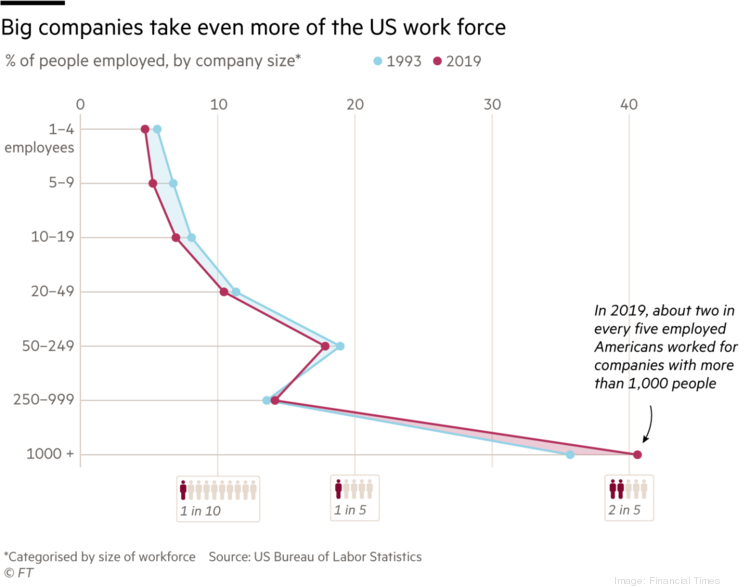 Amazon said it had created 23,000 jobs in Illinois since 2010 and invested $7.8bn in the state: "At Amazon, supporting small business is a fundamental part of our work and our success depends on their success. Covid-19 has created daunting challenges for small businesses, yet many have continued to grow with Amazon, despite the crisis."
The allure of large companies for local politicians is obvious. Amazon's warehouse in Skokie employs hundreds of workers compared with just a handful of jobs at Good's. However, local officials do not pay enough attention to the long-term consequences of offering sweetheart deals to attract large companies, argues Amanda Fischer, the policy director for the Washington Center for Equitable Growth, a left-leaning think-tank. "Everybody wants those 'blue ribbon' numbers about job creation," she says. "It's easy to claim that 500 jobs have been created and not really dig deeper into the fact that 600 jobs have been destroyed at rival local businesses."
For businesses owned by people of colour, there are additional hurdles beyond the pandemic, the rise of big-box stores and online commerce. Deep-seated racial disparities often mean they cannot rely on money from family and friends to start new enterprises, while also struggling to secure credit from banks.
Will Turner discovered his passion for food while serving a two-year sentence at a juvenile detention centre in Massachusetts, where he ended up in the 1980s after spending his teenage years running with street gangs in Boston. There he learnt not just how to cook but also how to run a big kitchen. "At juvie, I was taught to blend spices, cook for large groups of people, manage inventory and prepare produce," he says.
In 2010, when he found himself without a job, he decided to open a food truck. Then, four years ago, he turned it into an award-winning restaurant in Peachtree Corners, a suburb of Atlanta. The Blaxican — a marriage of African-American soul food and Mexican street cuisine that reflects Turner's biracial heritage — won rave reviews from customers for its quesadillas filled with collard greens, buffalo chicken tacos and sweet potato fries.
Setting up The Blaxican took its toll. It resulted in the end of Turner's 20-year marriage, mountains of debt and a panic attack that nearly cost him his life. But he would do it all over again if he could. "It's a great privilege for me to be a business owner," he says.
"I wouldn't trade none of this shit, because it's a great privilege for me to say I own something. My great-great-grandfather, Shadrack Starks, didn't have that privilege. He was born a slave and only later became a free man." Turner was forced to permanently close The Blaxican in May. He tried to stay afloat for two months with next to no revenues, but the bills kept piling up.
When Turner was trying to set up his food truck, a bank manager turned down his $65,000 loan application despite his strong credit score. "The bank manager told me, 'We don't have a book on food trucks in Atlanta. I can't really gauge the risk in this business,'" says Turner, who had prepared a detailed business plan after spending months researching the food-truck industry in cities including Los Angeles, Chicago, New York and Austin.
Without access to conventional financing options, he opened six credit cards and used the proceeds to buy an old FedEx truck, which he fitted with cooking appliances. For a while business was good, he says. A photo of Turner at the food truck with actor Robert Downey Jr — a big fan of his tacos — went viral on Instagram. "We did so well, we made such a good living off of that photo," recalls Turner.
But the credit card repayments started piling up and, in 2015, Turner was forced to file for bankruptcy protection, which allowed him to pay back what he owed over a longer period of time at a lower rate of interest. Undeterred, the following year he opened his bricks-and-mortar restaurant, again without the bank's help.
"Had I never had to take out credit cards to build my company, I would never be in the position I am today," says Turner, noting that the interest rates on small business loans are much lower, meaning he could have saved more for an emergency such as coronavirus. "If the bank had looked at the totality and the merits of Blaxican, I wouldn't be having these conversations right now."
When coronavirus hit the US, Turner, now 50, also struggled to secure a slice of the government funding that was made available to tide over small businesses during the shutdown. He applied for multiple aid and loan programmes but says he was repeatedly turned down without an explanation. He says: "The odds were stacked against me from the very beginning because of the financial systemic racism in this country."
A recent study from the National Bureau of Economic Research found that black-owned businesses in the US have been disproportionately impacted by lockdowns and changes in consumer behaviour during the pandemic. The overall number of active business owners in the US fell 15 per cent between February and May 2020, but African-American business owners suffered a 26 per cent drop, while those controlled by Latinx owners fell 19 per cent, according to the report. After the 2008 financial crisis, fewer than 50 per cent of black-owned businesses survived compared with 60 per cent for white-owned businesses, according to a recent study from the Brookings Institution, an apolitical think-tank.
"Covid-19 just reveals and amplifies the fundamental problems that have long existed," says Darrick Hamilton, economics professor and executive director of the Kirwan Institute for the Study of Race and Ethnicity at Ohio State University. "We know that prior to the pandemic, there was a greater likelihood that [black-owned businesses] wouldn't have been successful because they were undercapitalised compared to others."
Minority business owners face additional barriers because they have less access to generational wealth and can struggle to get credit. The Brookings report found that in 2018, large banks approved about 60 per cent of loans to white small business owners versus 29 per cent for black owners.
Hamilton says it is unsurprising that more black-owned enterprises are going bust given that the government's rescue package for small businesses was distributed via commercial banks, which have tended to underserve minorities. "By putting resources into a structure that was already racially inequitable and unjust, you very well might amplify that injustice and inequity," he adds.
For many African Americans, entrepreneurship has served as a mechanism to close the racial wealth gap, says Fischer, policy director at the Washington think-tank. "We know that the wealth gap is actually smaller between white Americans and black Americans [who are] business owners versus workers," she says.
Turner is not giving up altogether. Although the restaurant is closed for good, a donation from a woman in California allowed him to revive his food-truck business, while a GoFundMe campaign set up by his son will hopefully provide additional capital.
"It sucks big time for me to have to . . . hit the reset button and go back 10 years to where I first started," says Turner. "But I'm still optimistic. My sons said, 'Dad, you did it once, you can do it again.' So this is [just] a setback."
For free-spirited future mom-and-pops, the outlook is bleak. A report by the Federal Reserve Bank of Cleveland published in 2014 found the rate at which Americans were starting businesses had "declined significantly" over the past three and a half decades and that "new establishments have increasingly been provided by existing businesses opening new locations".
The study concluded that the two trends — the declining rate of new start-ups and the rising number of new chain outlets — amounted to a significant shift in the US economy. "Markets that used to be served by independent entrepreneurs creating businesses are now increasingly being served by the expansion of existing businesses," the report's authors wrote.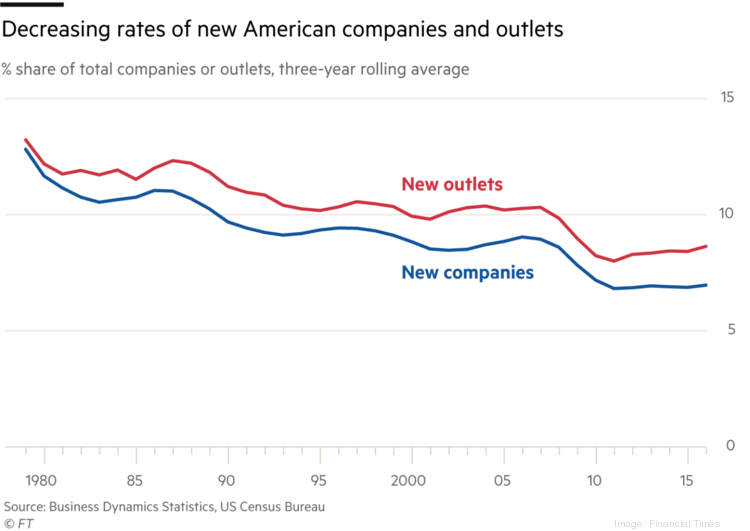 Fischer attributes the shift to competition and tax policies favouring large businesses that expand through mergers and acquisitions, and to the consolidation of the banking sector following the Great Recession of 2008 and 2009. "The decline of community banks, which have historically focused on small business lending," has choked off credit for smaller companies, she says, a trend that has been thrown into sharp relief during the pandemic with many small businesses reporting difficulties securing loans.
"There's basically no market for small business credit right now," she says, adding that, meanwhile, larger companies have benefited from market interventions by the Federal Reserve, which has created an environment in which corporations have been able to continue issuing debt with relative ease.
Fischer's father owned two grocery stores in Buffalo, a town in upstate New York, so she knows how "the entrepreneurial spirit is very much caught up in American identity". She describes him working long hours with no holidays but says he "held on to [the shops] way too long before selling because he didn't want to be somebody else's employee". Things have changed since then, she believes. "Ideas about mobility and pulling yourself up by the bootstraps are increasingly becoming folklore."
It was such ideas that persuaded Justine Reed to move to the US from Australia two decades ago to go to business school. She recalls her surprise on learning that her classmates did not suffer from "tall poppy syndrome", an Australianism that denotes a tendency to mock successful people and cut them down to size. "I was surrounded by people that had these huge dreams and it was OK to talk about it and I was like, 'Wow,'" says Reed, 49.
After three and a half years of working for Vail, one of the largest operators of ski resorts in the US, she left to set up a gift shop called White Balcony in Fort Collins, a town in Northern Colorado. "My favourite thing about the US is this idea that it's OK to be successful, the idea that the little man can make it. I think that the store wouldn't have happened in Australia."
But sunny American optimism could not save White Balcony, which closed in July after sales of its novelties and greeting cards evaporated during the lockdown. Reed was already struggling — she just about broke even last year — but the virus interrupted an attempt to revitalise the business by downsizing after an expansion into clothing went awry. "I was getting smaller again, I was seeing potential for profit. This was the year that I was gonna decide if I kept fighting the good fight. So Covid felt like a message from the universe saying to me, 'No, really, you should shut.'"
Business did not bounce back when Colorado's governor reopened the state in early May, says Reed. "It was like nothing I've ever seen before. Nobody was shopping. And then for the people who did come in, we had to talk to them through a mask. If you've ever worked in retail, you'll know a huge part of what we do is interact with people face to face."
She predicts that the pandemic will accelerate the trend of people shopping on the internet. "That's where this goes: everybody just gets used to not interacting with each other face to face and they prefer to shop online."
The days when most Americans bought groceries in local shops or went to independent hardware stores to do up their homes are long gone; today, a typical family is more likely to shop for food at a giant Walmart or to load up their car with paint and wallpaper at an out-of-town Home Depot. And yet the idealised image of the town centre lingers: a shared space once replicated in tens of thousands of cities, towns and villages, which offered a common experience even as the nation became more divided.
It is no accident that the best-preserved examples of old-fashioned high streets, dotted with neon-signed diners and small movie theatres, are found in tourist spots, where people take a break not just from their jobs but also the monotony of large chains and big brands. Holidaymakers can even find a shopping experience frozen in time at Disney's US theme parks, where the first "themed land" is always Main Street USA.
The attraction was originally modelled on Marceline, Missouri, where Walt Disney lived as a child between 1905 and 1910, and on Fort Collins, the town where Reed had her gift shop. Today, visitors to the idealised Disney town square can buy traditional sundaes from vintage ice-cream parlours and see the latest of the studio's films in an old-world cinema.
It is, of course, a facade. Disney, which has a market value of more than $230bn, is so successful in part because it put so many independent regional theme parks out of business; the Main Street Bakery might look like the real deal, but serves Starbucks coffee.
Robert Litan, an economist at Brookings, warns that many independent small businesses will not survive the pandemic. "We're not going to return back to the old trend" of small-business creation, he says. "We're just going to step down to a new lower level, from which we probably continue to decline."
Litan says smaller companies will struggle to adapt to the restrictions and investments imposed by the pandemic. "The interesting question is whether it is only the large enterprises that can bear the fixed costs of doing this," he says. "How many of these independent stores can survive? I think it's a lot fewer than before. I think this is probably going to reshape society and capitalism, and make it more difficult for the free-spirited entrepreneur, the mom-and-pop, to come back."
If a significant number of small businesses do end up being wiped out by the pandemic, it would have major consequences for America's collective sense of self, which is built on independence and economic self-sufficiency, says Litan.
He cites a seminal book by the late economist William Baumol — The Microtheory of Innovative Entrepreneurship — which found that independent business owners earn less than they would if they were working in an equivalent salaried job for a large corporation. "There is something in the American soil where people are willing to take a pay cut so they don't have to work for The Man," Litan says.
It is often thought that small business owners toil away in the misguided belief that their company is destined to become the next mega-corporation. But Baumol argued that this wasn't true for most mom-and-pops. "Why do these people take on more risk and are willing to take less money?" asks Litan. "It's not because they expect so much to become your Bill Gates or Mark Zuckerberg — very few of these people do — it's because of the independent streak in America, where people have historically displayed a greater propensity to work for themselves than is true in other countries."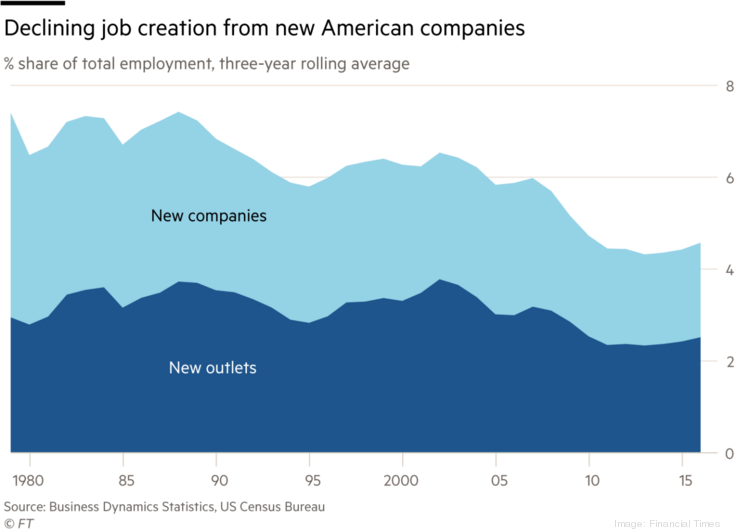 In the glory days of the Cheese Chalet, a European-style fromagerie in sleepy Newark, Delaware, customers were greeted by mountains of imported cheese: Manchego from Spain; Gruyère from Switzerland and Stilton from England. On the wall, a daily takeaway menu offered Swedish meatballs, herb-crusted fillets of fish and devilled eggs.
Now Henry and Carol Huffman, a married couple who opened the store in 1976, are packing up the last few cans of Coke and iced tea. A stack of cardboard boxes is all that remains of their beloved shop, which has succumbed to the coronavirus pandemic like so many others.
"It's very emotional. There's stuff that just piled up over the years that you've forgotten about. You don't know what to do with it," Carol says. "I've got a kitchen full of stuff. It's probably gonna get trashed, because nobody really wants it." The couple are still processing how a life spent serving a loyal clientele was swept away in a matter of weeks. "The little bug that you can't even see put us out of business," says Henry, his voice straining with emotion. "We didn't think it would end this way."
The pair survived multiple recessions, although in the early 1990s Carol had to take a second job to bolster the family finances. After the 2008 financial crisis, a lot of their corporate clients had to cut back on corporate hospitality, which hurt their bottom line significantly.
When coronavirus forced them to close their doors for the first time in more than four decades, they tried to get state aid. But they could not comply with rules stipulating they should keep on all seven of their casual workers, most of whom had already quit. "Once we understood fully the conditions, we turned it down," says Henry. When the aid rules were relaxed, they tried again but "didn't get it", he adds. And so on March 28, the Cheese Chalet closed its door for good.
The Huffmans had a different final act in mind. "We were hoping to sell to some young couple with a lot of energy that would keep the shop going," says Carol. "Now nobody wants to buy it," adds Henry. "There's too much uncertainty."
Their loyal patrons are crestfallen. "Cheese Chalet was a constant in my life for decades," Jude Donavanik wrote in an email to the Huffmans. Other customers say they will miss Carol's home-made dishes and bantering with Henry about politics and baseball. "You became a 'go to' place for us and over time we felt more and more like we were going to see friends," John Pumphrey, a customer, said in an email to Carol.
"This place was much more than a business, but part of our community, part of our lives," says Pumphrey. "I doubt we will ever find a better place for good food made with pride — and a smile."
Source: Sacramento Business Journal